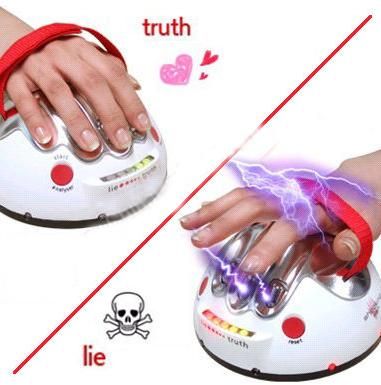 Highlights:
LED light to indicate fact or lie
Sensors at front and back
Velcro fastener strap holds hand safely in place
High/low shock setting
Suction cup feet keeps unit in place
Great for having fun with your mates
Requires 3 x AAA batteries (Not included)
Instructions manual included
Dimension: 16 x 16 x 8.5cm
Note:
This is not a toy. Please keep out of reach of children.
This product emits electric shock. Can cause interference with electric devices such as pacemakers.
Do not use if you suffer from epilepsy or any similar illnesses.
Not suitable for pregnant women.
Think you can beat the Shocking Liar Lie Detector? If not… you're in for a shock! SAVE BIG! Honesty is the best policy. You'll certainly be inspired to tell the truth when you're in the "hot seat" with the Shocking Liar! When you place your hand on the top plate of the Detector and take questions from others, the truth will set you free. Anything less… and ZZzzap! You'll soak up a safe-but-stinging shock that'll make you think twice before you fudge the facts again! They say the truth hurts, but a lie might just be worse. Can YOU handle the truth?